Minnesota Nice Gifts & Nice Spice
Nice Gifts curates themed gift boxes for all occasions featuring products created by local artisans including our very own Minnesota Nice Spice. Our proceeds support a local non-profit organization for artists with disabilities.
Personal gifts, company gifts, fundraisers, and custom made gift boxes.
We love helping you leave a lasting impression with our ALL LOCAL & CHARITABLE GIFTS!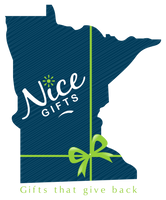 Our Gift Boxes are Nice!
Nice Gifts was founded to create themed gift boxes for all occasions, featuring carefully selected products made by local artisans all while supporting artists with disabilities at Interact Center.  Interact Center is a day program where 125 visual and performing artists with disabilities showcase their abilities through their artistic talents.  
Over the years we have made friends with many local "makers," and together we give back to several local causes creating a strong sense of community.  
From our "All Things Local" gift box to our Wedding gift box, our goal is to take the hassle out of gifting by curating the perfect selection of items for you- all you have to do is tell us what personal message you want on the card!