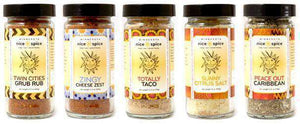 You Choose Five Value Set Combo
Regular price $35.00 Sale
If one is good and two is better, then five must be off-the-charts-unbelievable!
Our Five Organic Seasoning Blend Combo is a wonderful way to try an assortment of our Minnesota Nice Spice Organic Seasoning Blends or to share them with someone as a very special gift for a shower, wedding, or any special occasion. Simply choose any five organic seasoning blends and you're ready for a play date in your kitchen.
All you have to do is select five of our organic seasoning blends and get ready to spice it up at every meal. We may have neglected to mention how hard it is to choose between all of our great spices, but we'll let you figure that out on your own!
Looking for the perfect gift? Check out our Five Organic Seasoning Blend Gift Box, beautifully packaged and ready to present to your lucky gift recipients.